The first calendar year of the project was rounded off with the planned visit to partners from Marseille. On that occasion, representatives of four Case Study institutions and local mentors of the design teams got to know the Museums of European and Mediterranean Civilizations, not only as the facility that amazes with its appearance and the programme it offers but also by getting to know the people behind the scene who justify Mucem as "garden of culture" in this part of the Mediterranean.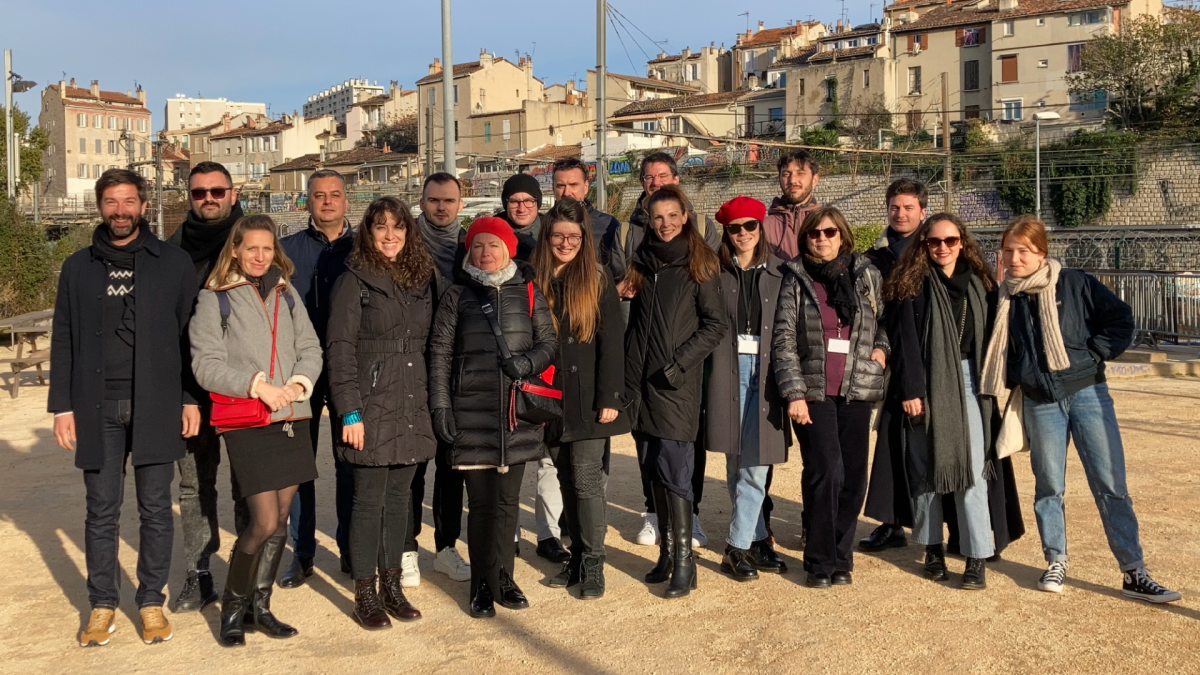 The first delight of the three-day visit came when arriving at the modern and magnificent museum building, which is tucked between the salty Mediterranean sea and the old Fort Saint-Jean. Shortly after the delicious serving of French croissants, the guests were provided with expert guidance through the "Salambo" exhibition, where they received answers from the curator regarding the curation, installation and branding of an exhibition, and that was just the beginning.
The organization of various thematic lectures and sessions, with very detailed presentations and personal examples, real statistics and transparent data, went beyond all expectations. Not only did the partners have the opportunity to meet and discuss with employees from Mucem, but the whole concept was well thought out. The speakers were also guest experts from institutions of different profiles in order to exchange as many different experiences as possible. Instructive lectures and answers to many questions were given by: Julie Basquin, Head of Communication talked about strategy and visual identity communication at Mucem; Spassky Fischer (a design company that did a Mucem's visual identity) spoke about good practices of communication; Mathieu Boncour, Head of communication at Palais de Tokyo; Léa Levkovetz, Head of communication at Constructa; Mucem cultural development and audience department Cécile Dumoulin and Elisabeth Cestor; Sabine Camerin, Head of programming, Pass Culture; Mucem resources development department and visit of bookstore and concept store.
On the last day, three separate sessions were organized to transfer the knowledge on topics that were specific to a particular project partner. Cultural Centre Trebinje benefited from an organized visit to the institution "LE ZEF" (Marseille international stage) regarding planning activities in the institution. The Pavle Beljanski Memorial Collection and Museum of Contemporary Art of Republic of Srpska spoke on the topic of how to value the catalog and booklet published for exhibitions and enhance the collaboration with editors with Natacha Cauvin from Mucem Publication Department, while the Artistic Colony Danilvgrad enjoyed a guided city tour by Planete-Emergences.
Without any doubt, all four institutions were under the impression of the impressive visit organized by Mucem. The visit ended with a joint tour of the Centre for Conservation and Resources, where everyone found their strangest favorite piece of art. However, the most valuable was the knowledge they have acquired so that they can improve their position on the Western Balkans' cultural map, soon or in the distant future.
Dear Mucem, merci beaucoup! : )