Interview with Mrs. Léa Levkovetz, Head of Communications at Constructa
"Know them better to communicate with them better." Small and medium-sized institutions and organizations are often burdened with overcoming their shortcomings, instead of focusing on the potential they possess. Regarding that, we would follow up on Mrs. Lea's words – "Know yourself better to communicate yourself better."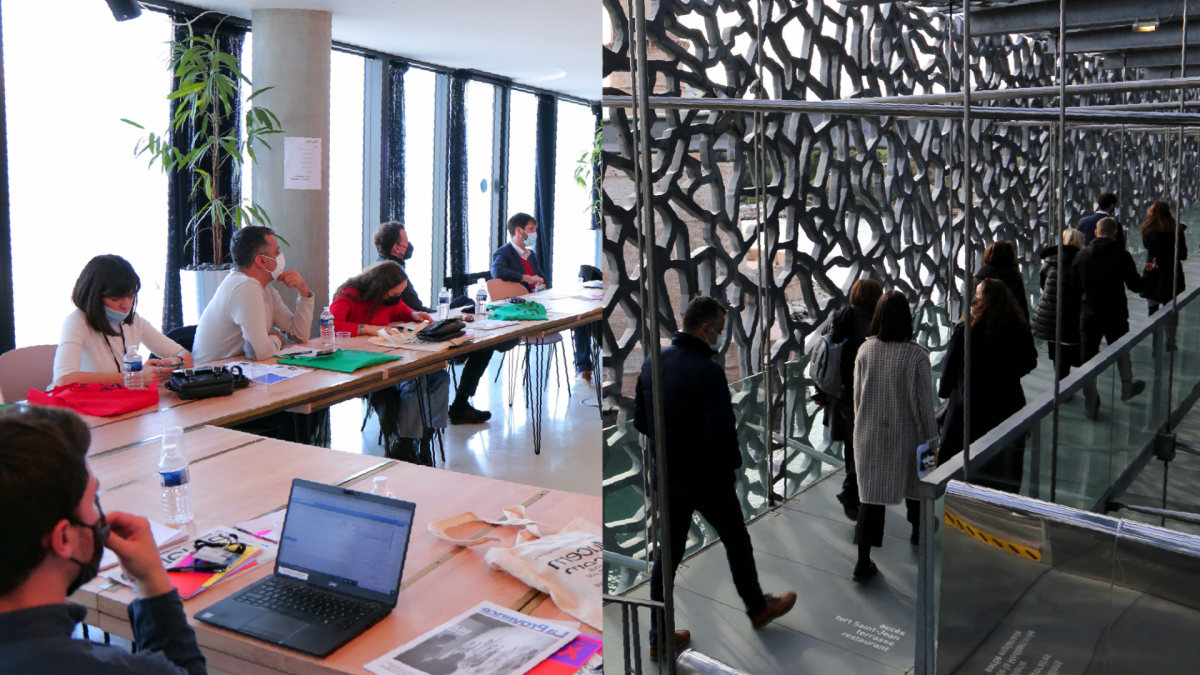 ---
1. Following your extensive experience working in communications, what do you find are the weakest points in the communications strategies of small cultural institutions and how would you navigate overcoming them?
Small and, all too often, medium-sized and large cultural institutions suffer from a lack of public awareness and knowledge. There are some questions to ask:
Who are the people who come to us?
What are their other cultural/leisure activities?
Who might be interested in our programme?
How can we make it evolve to create a series of events capable of bringing a new audience into our walls (and then work on creating customer loyalty)?
For whom are you doing this programming? (This is the principle of the empty chair at a meeting – it allows us to really ask ourselves about the audience and what we are going to bring them in terms of knowledge, artistic and aesthetic shock, reflection, open-mindedness, mental gymnastics, etc.)
Your best response is to manage your audience data – both by asking those who come to you and by studying the profiles of those who follow you on the internet.
My recommendation: having a real ambition in terms of community management/audience reception to better address your messages, bring in new audiences and above all, get to know them better to better interact with them. This is the most effective and least expensive solution.
---
2. What potential do you see in the Western Balkans in terms of culture?
A huge potential! It is a completely unknown part of Europe that fascinates by its cultural and patrimonial richness and that frightens at the same time – is it the result of the "historical" fact with which we have been raised since school in the "Balkan powder keg"?
My recommendation is audacity, ambition! We must initiate a pretext to bring the art world to the Western Balkans. A cross-border programme, a symbol of cohesion and territorial understanding. With a war at the gates of Europe, any message of harmony, of the will to work together, carried by cultural desire, will have a more than favourable echo in all political, media and public opinions. An ambition of this type must be supported by all the cultural players, but also by the economic and/or political ecosystem. It is a medium-term initiative, with a minimum of 4 years:
One year to bring together the cultural players, to design a common cultural "season" and to make the budgeted (+ start of the work of influencing decision-makers as soon as the project is confirmed)
One year to bring together the economic, political and diplomatic ecosystem necessary for its success (to be timed according to electoral calendars so that we can address people in a position to make decisions for the years to come)
A year of pre-production: composition of project teams, production start-up, launch of international communication
Year/season of the event
Anticipate two discovery trips (large budgets – 200 people base), on the initiative of art world players/decision-makers and to the press/international influencers
This event will be the starting point for putting the Balkans on the map of the art world – it will be up to the directors of the institutions to continue to make their presence felt through ambitious programmes, but also to nurture the relationships they will have established with all international professionals.
---
3. It's no secret that cultural funding is limited. How could intersectoral cooperation contribute to cultural institutions and culture in general, specifically in the Western Balkans region?
On a daily basis, they can:
Anticipate a cultural education policy with the equivalent of the national education system, they are both your primary influencers and your future audiences
Work on a better sharing of data to get to know your audiences better and see which audiences are common to which you can develop joint or cross-promotion
Think about developing a strategy in terms of commercial concessions: the right restaurant, the right shop, so many excuses to bring in other audiences and ensure a source of additional income
Map out all the public and private partners who could help you cover all your costs as the European funds, the tourism stakeholders or the economic actors (companies and/or personal fortunes that want to "give back" to their territory what it has given them)
Animate a community of partners with a specific programme
Dear Léa, it was truly a pleasure to meet you personally and learn from you. ​​Thank you for sharing your knowledge and pointing out the tools that should be used to strengthen the potential of the cultural institutions of the Western Balkans.